I ate 12 of these. That's like a whole stick of butter from all the frosting!!! I'm not thinking about it anymore.
It's common knowledge that I can't follow a recipe
so here's the one I made up for these muffin top-esque treats.
I'm calling them: Pumpkinspice Muffins with Spiced Frosting.
Muffins:
I 15 oz can of pumpkin
1/3 cup applesauce
1 large egg
1/2 tsp cloves
1/2 tsp nutmeg
1/2 tsp cinnamon
1/2 tsp salt
1 tsp baking soda
1 cup sugar (I use
Zulka
)
1 1/2 cups whole wheat flour
- Mix everything together but the flour until smooth. Fold in the flour until just mixed.
Put in greased muffin tin and bake at 350 for 25 minutes.
Makes 24-ish.
Frosting:
1/2 stick softened butter
3 cups powdered sugar
2 TB milk
1/2 tsp desired spice (I've used cloves and nutmeg. Both were great!)
- Mix until smooth. Frost muffins when cooled. EAT.


Try not to eat all the muffins in the house.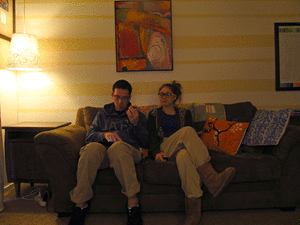 I seriously made two batches and Toph got like two.