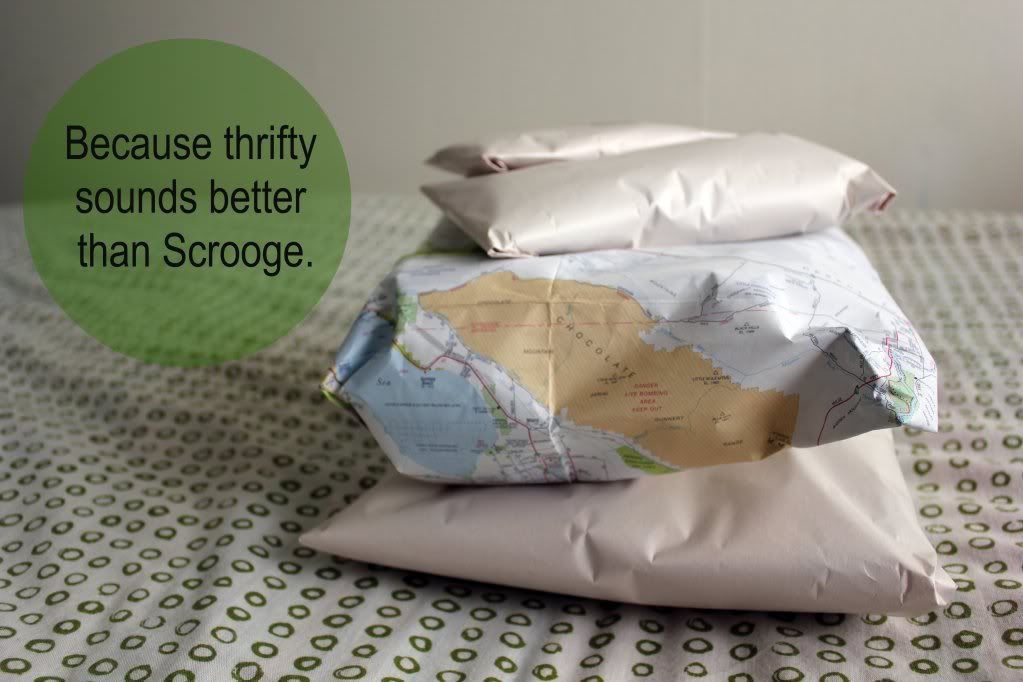 Toph and I never really go nuts at Christmas time but this year we're especially gonna keep it low key. Because he splurged so much on my birthday gift, because we have tons of huge+scary expenses coming up, and because B still doesn't even get the concept of presents we figure this is a good plan. Anyway, here are a few ways we keep things thrifty around the holidays:
- I always wrap my presents with paper from the recycling bin. Because the bin is just full of paper, it's clean and I don't mind grabbing a few big pieces out of it when I go to check the mail.
- We shop thrift. Duh. I've mentioned this a million times (most recently here) but seriously, some of my fave presents have been from thrift stores. Last year I scoured a few shops to find Toph a big book series he wanted. I was able to find over half of them and the rest I got on Amazon for pretty cheap. (It was
The Wheel of Time
series for you fantasy lovers out there.)
- We make sure the stockings are FILLED. Because stocking stuffers are cheap and stockings are the best part anyway we go nuts finding small but fun things to go in them. Chapstick, cute socks, looooove notes, gum, etc. I love stockings!
- We count dates later on in the year as presents. Like make a coupon for a specific date idea and cash in on it later on.
- We make our own holiday decorations. The first year we had our own Christmas (where we didn't go home or anything) I made a million ornaments for our living room out of dollar store items and hung them off a spray painted branch. It was supah cute.
-
We fill our advent jar with local/inexpensive activities. This year there's "read a Christmas book" and "go look at lights" in there. Exciting stuff.
We probably do other things but I'm drawing a blank. For further reference that's not from me, here are some sweet posts with thrifty Christmas time ideas:
Kayla's under 5 dollar gift guide (there are some GEMS here!)
Paige's yoga pants tutorial
is an easy gift idea (I actually just want to make some for myself. But, you know. You could give them away too. If you're nicer than me.)
What are your thrifty holiday ideas?