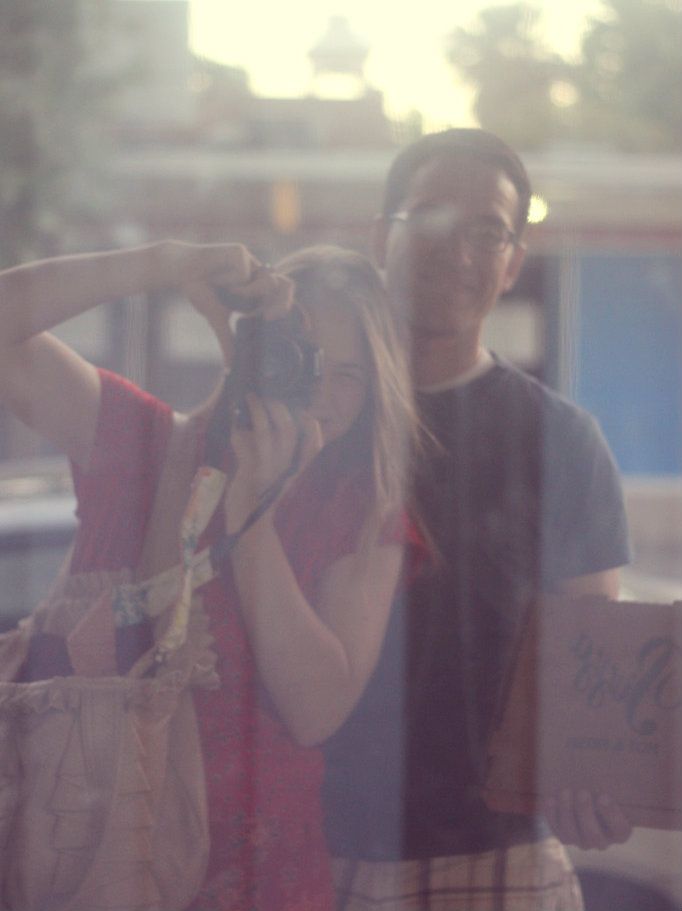 Smiling through our grief.
We're devastated. It's just .... over. After so many months, how are we gonna live without it??!
So Toph and I have been watching Friday Night Lights nightly on Netflix for months now. (If you follow me on twitter you're thinking: "Duuuuh. Stop talking about it already.") Well, a few days ago we were just watching our episode like it was any other day when halfway through we realized it was the last episode. Ever.
"I AM NOT PREPARED FOR THIS!!!" -Me
"Are they gonna win state or what???"-Toph
Here's the rundown on who we loved and who we loved to hate over the course of those five glorious seasons:
Coach and Mrs. Taylor: LOVE. One of our fave TV couples of all time. We loved how they called each other out on all their stuff, communicated so well, joked, and liked being together so much. Clair and Heathcliff got a run for their fake matrimony moolah with these guys.
Julie: Meh. We liked her mainly because Matt did. She was real whiny most of the time and that little TA stunt during her brief college stint? No thanks.
Matt: Love. Ok, so maybe the weird Carlotta fling was uncalled for but he made up for everything with how much he loved his Gma!! Seven was alright by us.
Landry: LOVE. Straight up love this kid. Hilarious and the fact that he went by Lance most of the time was perfect.
Tyra: Love/hate. We loved her when she was all girl power and, "I'm working hard and going to college!" But we got sick of the, "I'll never make it to college. I need beer and a cowboy boyfriend" moments. When she popped back in on the last season though, we cheered. So. Yeah.
Jason Street: Meh. I know! He was alright but Matt stole the plot for us pretty quick.
Lilah: Go the heck away. She was so annoying! With Jason, with Tim, with the short lived Christian kid played by Logan from Gilmore Girls; no matter who her boy was, she was annoying.
Smash: Toph loved him. I was glad he made it to college and all, but I liked his mom way more. I wanted to smack some sense into him (for her) on more than one occasion.
Jess: We loved Jess! She had so many good one liners and was good for Vince. Huzzah.
Vince: Also loved. He came so far from the first time we saw him til the last episode.
TIM RIGGINS: Oh my holy heck. We love Tim. Texas forever? For Tim, yes! I think I might've liked him just a smidge more than Toph did ...
Having a show that both Toph and I looked forward to watching together was bomb. The last episode was awesome (that final toss during the last remaining seconds of the state game turned wrap up montage? Perfect!!). I'm so bummed it's over. We're thinking of watching the movie now just to ease the FNL withdrawals. Long story short, we need a new couple show! And preferably one that's over and has all the seasons up on Netflix already so we don't have to wait. Life be so hard.
Clear eyes, full hearts.