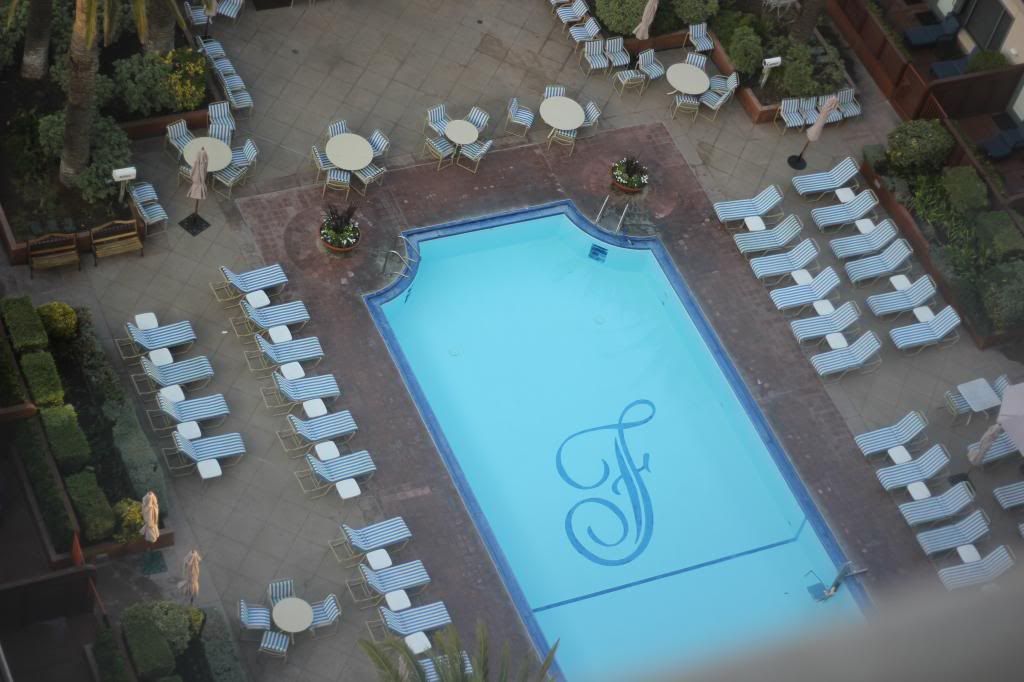 Last week Topher had a work conference in San Jose that we got to tag along on and then we went to Monterey really quickly to have family pictures taken. It was all sorts of a party.
We stayed
: at the swankiest hotel of our lives, The Fairmont in downtown San Jose. It was real nice. I'm pretty sure we were the only people there with kids, but don't worry! Everly cried all night long, both nights, so no one noticed. (Also, I get that valet parking is necessary and fancy or whatever, but mostly I just felt like, "I can haz my car back now?") It was located next to some amazing stuff and the view from our room on the 19th floor was incredible day and night. (Elevators scare the living fear out of me and they also give me wicked vertigo. But I prevailed! #ournausea)
We ate
: at Pizza My Heart (I wanted pizza, it was within walking distance and it was delish), the Bijan Bakery and Cafe (carrot cake!), at a law friends house (thanks again Ryans!!), and at Ike's Love and Sandwiches in Monterey (definitely some of the best chips and sandwiches around). We also gave into the siren song of KFC potato wedges once. We're not proud.
We played
: at the Tech Museum (it was right across from the hotel), downtown (window shopping!), in the hotel pool, on the hotel escalators (more vertigo but worth it because Bronson really got a kick out of it + free!), in the hotel room (cable! HGTV! Disney!), and we stopped by the Dennis the Menace park for a quick run around after pictures.
It was fun to shake up the norm for a few days, visit with friends, see a city we'd never been to before, and return to one we love so much. It was also a good reminder that taking kids on vacation isn't relaxing. I had all these crazy ideas about quiet nights with Toph working while I painted my nails and caught up on
What Not to Wear
. Taking our kids to a new environment and having them sleep in the same room as us doesn't turn them into docile lambs, turns out. More like orangutans hopped up on Red Bull. :):):)