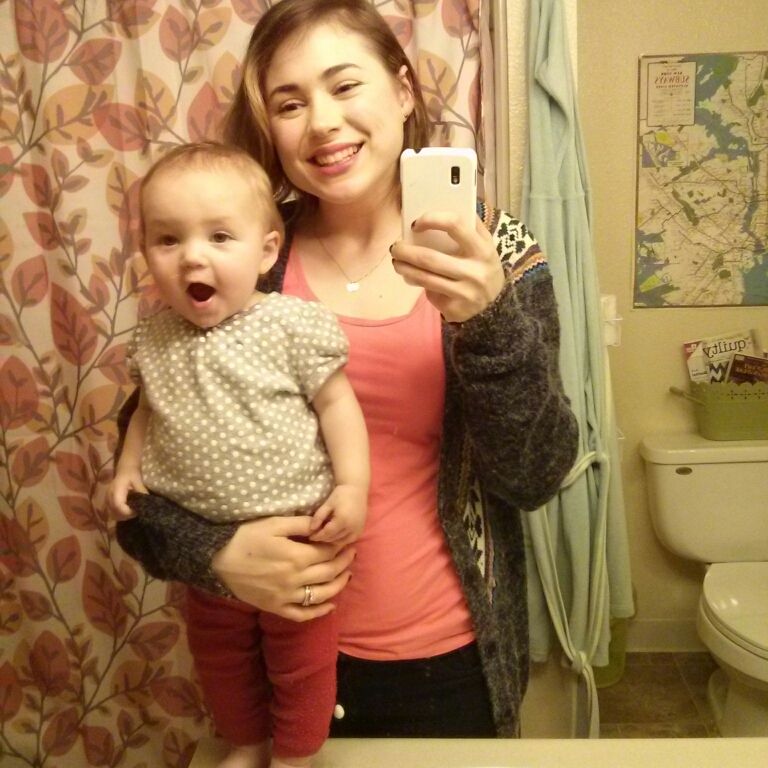 I was trying to get a picture of the toilet but we got in the way.
Way back in November, when my fall reading list wrapped up, the end of February seemed years away. And yet, hello March! I still miss Christmas.
Here's what I read during December, January and February:
Harriet the Spy (I'm not sure how many times I've read this now. What a weird little book. I love it. The movie came out when I was 9 and I checked out that orange Nickelodeon VHS copy from our library more than a few times. The book was written in 1964 but I think they did a pretty good job pulling the story into the '90s for the movie. My favorite character is Golly, obviously.)
Steelheart (Toph picked this one for us to read together and I actually liked it a lot more than I thought I would . So the writing was pretty hokey, it read like something aspiring to go straight to theaters, but the story was really interesting. It sparked a fun book club discussion and we're both excited for the next book in the series to come out.)
The Middlesteins (This was my first real attempt at an audiobook. When I saw that it was supposed to take 6 hours of listening to finish I wasn't sure how I'd fit that in, but it actually went really quickly. I listened to it all in about three days, who knew there was so much dead air in my day to day? I listened while walking to the gym, cooking dinner, cutting up fabric for quilts, driving to the store, on the elliptical and sometimes at night right before bed. I could give or take the actual book, although I did like how it was told from each character's perspectives, but it was nice to use the Overdrive app for once.)
My Most Excellent Year (This one just missed all the marks for me. It felt too young (and not in a nice or nostalgic way) there were so many cliches, it was confusing because the characters went by like 3 names apiece; I just wasn't into it. If it hadn't been for the brief Julie Andrews bit near the end it would've all been a waste for me.)
45 pounds (more of less) (I liked this one! I don't hate everything! Nothing too deep involved but it was a nice, quick, feel good read.)
When You Reach Me (Seriously just had to Google this because I had no recollection of it at all. Blush blush. Now I remember. So I listened to this one too, and I'm not sure if it's because I didn't really know the plot of A Wrinkle in Time beforehand, or because I did listen to it, but I just never really got into it. All the reviews on Goodreads raved over it and claimed "the twist" was just amaze but I was like, "Ok yeah, I see that what you did there. The end." I might've liked it better had I read it myself.)
Why We Broke Up (Pure hatred. From the moment I picked it up I was over it. I'm still mad at myself for reading the whole thing, honestly. It's not just that the characters were all idiots (they were) or that the story itself was ridiculous (it was) but the actual physical book was so dang heavy! It was an angry arm workout just to lift it. I've written pages in my head about this book and how stupid it was but every one's lucky because I'll keep the finer points to myself.)
I'll Be There (Ok so even though this turned into a crazy episode of I shouldn't Be Alive about halfway through, the overall thing was enjoyable. It was kind of like a reversed version of Eleanor and Park with less angst and more dumpster diving? I liked it.)
Drums, Girls, and Dangerous Pie (A well written, funny, tear jerker that took about an hour to read. Go for it.)
The Catcher in the Rye (I expected to loathe this. I really did. I didn't love it but i didn't hate it either. Yeah, Holden got on my nerves eventually and I kept waiting for the ball to drop plot wise, but overall I'm glad I finally read it because you just never know about those books they force you to read in HS. I mean, some are truly duds and others are gems camouflaged in over analyzing or forcing meaning for some writing assignment. This one landed somewhere in between for me, much closer to dud than gem, but I did take some notes and a few quotes jumped off the page at me.)
The History of Love (Now this one I excepted to love. I really did. But. I don't know. I loved how everything was intertwined in the end and how the story unfolded through each character, but it just all seemed kind of ... over done? I'm not sure. I just kept imagining how I'd describe it to someone and I felt really dumb. Like it was trying too hard? (And I just finished it this morning so it's pretty fresh.) I always feel kind of jerky when I don't like certain books but I think it's ok too. There are so many books I absolutely love, I have to balance it out with a few that aren't my favorites.)
///

I'm heading to the library today without Bronze and Ev and I might never come home.
Happy spring!